Welcome to the ITIV
The Institute for Information Processing Technologies (Institut für Technik der Informationsverarbeitung - ITIV) is one of the seventeen laboratories of the Department of Electrical Engineering & Information Technology of the KIT.
The institute concentrates - in research and teachings - on methods and computer aided tools for the design of electronic systems and microsystems.
The ITIV is under the cooperative management of
Erster Prototyp zum disruptiven Fahrzeugkonzept "U-Shift" vorgestellt
Den ersten fahrfähigen Prototyp des futuristischen Fahrzeugkonzepts "U-Shift" hat ein Konsortium aus baden-württembergischen Forschungseinrichtungen, an dem auch die Forschungsgruppe von Prof. Sax am ITIV mit der Entwicklung einer neuartigen Elektrik-/Elektronik-Architektur beteiligt ist, bei der Zwischenbilanzkonferenz des Strategiedialogs Automobilwirtschaft Baden-Württemberg am 17.09.2020 in Stuttgart vorgestellt.
zum Artikel in den KIT News
Prof. Sax im P. M. Magazin 10/2020
Um das Klima zu schonen, sollen auch Lkw künftig elektrisch fahren.
Aber welches ist das beste Antriebskonzept für die Giganten der Straße?

Im Artikel "Schwer unter Strom" im P. M. Magazin, Ausgabe 10/2020, gibt Prof. Sax dazu Prognosen ab und erklärt, warum er die Brennstoffzellentechnologie favorisiert. Zur Problematik der zukünftig wohl stark überlasteten Stromnetze meint Prof. Sax, dass an einem Technologiemix aus elektrischen Antrieben, synthetischen Kraftstoffen sowie Oberleitungen kein Weg vorbeiführe.
"Schwer unter Strom" im P. M. Magazin 10/2020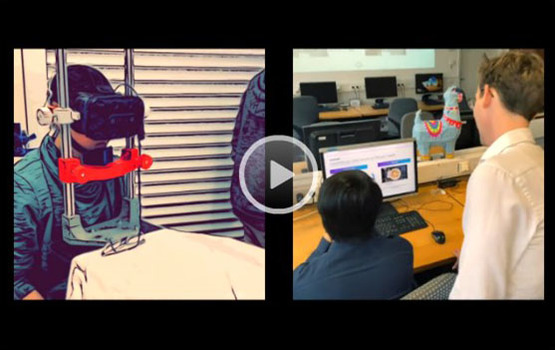 Fakultätslehrpreis 2020 für das Team "LAMA"
In der praxisnahen KI-Lehrveranstaltung "Labor für angewandte Machine Learning Algorithmen (LAMA)" wird der praktische Umgang mit gängigen Algorithmen und Methoden des Maschinellen Lernens projektbasiert und "Hands-On" vermittelt. Hierbei sollen Studenten einerseits Algorithmen und Strukturen selbstständig implementieren und gleichzeitig auch die heute in Wirtschaft und Wissenschaft gängigen Methoden und Tools erlernen.
Für ihre Arbeit im "LAMA" erhalten Daniel Grimm, Tim Hotfilter, Gabriela Molinar, Marco Stang und Simon Claus Stock den Lehrpreis der Fakultät ETIT 2020.
Das ITIV gratuliert ganz herzlich!
Video zum Fakultätslehrpreis 2020 für das Team "LAMA"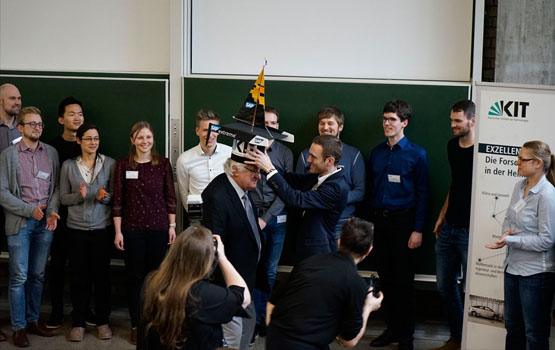 Ehrendoktorwürde für ITIV-Alumnus Hasso Plattner
In einer feierlichen Festveranstaltung am 17.02.2020 verlieh die KIT-Fakultät für Elektrotechnik und Informationstechnik Prof. Dr. h.c. mult. Hasso Plattner die Ehrendoktorwürde.
Sein Diplomstudium in Nachrichtentechnik schloss Hasso Plattner 1968 bei Prof. Karl Steinbuch ab, der bis heute als einer der Pioniere der deutschen Informatik gilt.
Dietmar Hopp, ebenfalls Alumnus der Universität Karlsruhe (TH), hielt die Laudatio und erinnerte an die gemeinsamen Anfänge bei SAP.
Sichtlich gerührt nahm Hasso Plattner den von ITIV-Doktoranden gebastelten Doktorhut entgegen.
zur KIT Presseinformation 013/2020
Rhein-Neckar-Zeitung Artikel vom 18.02.2020
Foto: Überreichung des Doktorhuts