Prof. Dr.-Ing. Eric Sax
NEW BACHELOR AND MASTER THESIS RELATED TO KARLRUHE ZOO FOR HIRE!!!
Bachel thesis: Entwicklung einer Hardwareplattform zur Verhaltensüberwachung von Zootieren
Master thesis: Erkennung und Verhaltensanalyse von Zootieren in Kamerabildern
Curriculum Vitae
October 1st, 2014 - today
Head of the Institute for Information Processing Technology (ITIV) at Karlsruher Institute of Technology (KIT)
Director at the "Forschungszentrum Informatik" (FZI) in the department ESS (Electronic Systems and Sensors)
Program Director of the Hector School for M. Sc. MSEM (Mobility Systems Engineering and Management)
KIT expert for autonomous driving
Supervisor of currently more than 50 doctoral students
December 01, 2009 - September 30, 2014
Head of Development Electrics/Electronics at Daimler Buses
Responsibility for all EE systems and components, diagnostics and wiring harnesses in the buses of the Setra and Mercedes brands (city, touring and intercity buses)
EE responsible for processes and architecture
Responsibility for high-voltage systems (incl. HV battery and fuel cell) and electrical drives
Worldwide EE responsibility for Daimler Buses (including chassis) (main locations: Istanbul, Sao Paolo, Chenai)
October 1,2002 – September 30, 2009
Pioneer and later head of the "Component Test" team and subsequently the "Test Engineering" department in the MBtech Group (at that time a 100% engineering subsidiary of Daimler AG)
Focus: Automated testing of control units in the automotive industry in all domains (body, chassis, powertrain, telematics) of the vehicle
Introduction of Hardware-in-the-Loop (HiL) technology at the control unit level
Operational test responsibility for HiL tests at Daimler in all vehicle areas (pass cars, vans, trucks, buses)
Process orientation from specification to vehicle test
Tool responsibility for XiL tests (including PROVEtech tool chain)
Development responsibility for the Electronics Solutions division in the Czech Republic
Chairman of the steering committee and interim project manager for the EE development of the AMG BR197 (SLS)
October 1, 1993 - September 30, 2002
Research assistant and later head of the Electronic Systems and Microsystems (ESM) group at the "Forschungszentrum Informatik" (FZI)
Content focus: Embedded systems, model-based ECU development, automated testing
Implementation of bilateral projects with European automobile manufacturers and suppliers in the areas of standard operating systems, automatic code generation, test description et al.
Joint project management at national and European level in the areas of embedded systems, distributed engineering et al.

Doctorate in 1999 (in the Faculty of Electrical Engineering at the University of Karlsruhe)

Diploma 1993 (study of electrical engineering at the University of Karlsruhe)
Prof. Sax with his internal and external doctoral students
Research
Head of the research area "Systems Engineering" at ITIV/KIT with the following focus areas
Processes and methods from "agile" to "V" for the design of embedded systems and system networks

Hardware-in-the-loop test of embedded electronic systems, especially driver assistance systems

Graphical descriptors and executable specifications

Secure SW architectures and EE topologies

Big Data Analyzes - Anomaly Detection and Data Evaluation in the (commercial) vehicle
Development of/contribution to strategic roadmaps for
Mobility 2025
Communication in a new era
Cooperative and sustainable energy management
Bilateral cooperation and personal consulting of external partners

Management of the Electronic Systems and Microsystems Division (ESM) at the FZI
PhD positions
I am always looking for dedicated and highly qualified people who would like to do a PhD in industry-related innovation projects.
Publications
Books:
E. Sax, Automatisiertes Testen Eingebetteter System in der Automobilindustrie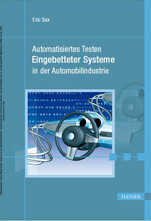 Erschienen im Hanser-Verlag (ISBN 978-3-446-41635-2), 2008
Link zu Researchgate: