ÖV-LeitmotiF-KI
Contact:

Project group:

Prof. Sax

Funding:

Bundesministerium für Digitales und Verkehr

Partner:

ESE, FZI, INIT, IVU, VDV

Startdate:

01.01.2022

Enddate:

30.06.2024
ÖV-LeitmotiF-KI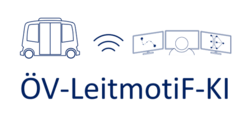 Public transport: standards for control system connectivity of automated vehicles using artificial intelligence.

Project goals
The use of automated vehicles in public transport (PT) requires the standardization of organizational and technical integration into the operational processes of PT. This standardization forms the basis for non-discriminatory market access for manufacturers and public transport. At the same time, safe operation by public transport must be ensured, since it acts as the operator of the technical systems and is therefore liable.
In order to enable this standardization of the safety-compliant integration of highly automated vehicles of SAE level 4 and higher, a safety-compliant standardized reference model for the integration of automated vehicles is being developed within the framework of the project ÖV-LeitmotiF-KI. This model is based on the development of operational processes and will include, in addition to a system architecture, a standardized technical specification of the interfaces between the control systems, the vehicles and other parties involved, such as the passengers. In addition, highly automated vehicles offer potential uses for artificial intelligence and machine learning, the beneficial application of which will also be identified within the project and incorporated into the development of the reference model.
ITIV participation
For the integration of highly automated vehicles into public transport, existing processes will be automated on the one hand, but new application possibilities will also be developed. In both cases, for example, new interfaces between the control system, its personnel and the passenger are created by the elimination of the driver. For a safety-compliant, standardized reference model for the integration of automated vehicles, any operational processes must first be identified and prepared. Subsequently, these are examined with regard to their automatability and evaluated by exploiting the advantages of AI methods. In the course of the project ÖV-LeitmotiF-KI, ITIV is responsible for the analysis of the processes in conventional and automated operation, as well as the development of the system architecture.