ELCH
Contact:

Project group:

Prof. Sax

Funding:

Bundesministerium für Wirtschaft und Klimaschutz - Funding code: 01MV22010

Partner:

Daimler Buses / Universität Mannheim (MISES – Mannheim Institute for Sustainable Energy Studies) / Rheinland-Pfälzische Technische Universität Kaiserslautern-Landau RPTU (iMAD – Institute for Mechanical and Automotive Design sowie SAM - Lehrstuhl für Strömungsmechanik und Strömungsmaschinen) / Flix SE
Project ELCH: Road to a modular electric drive for coaches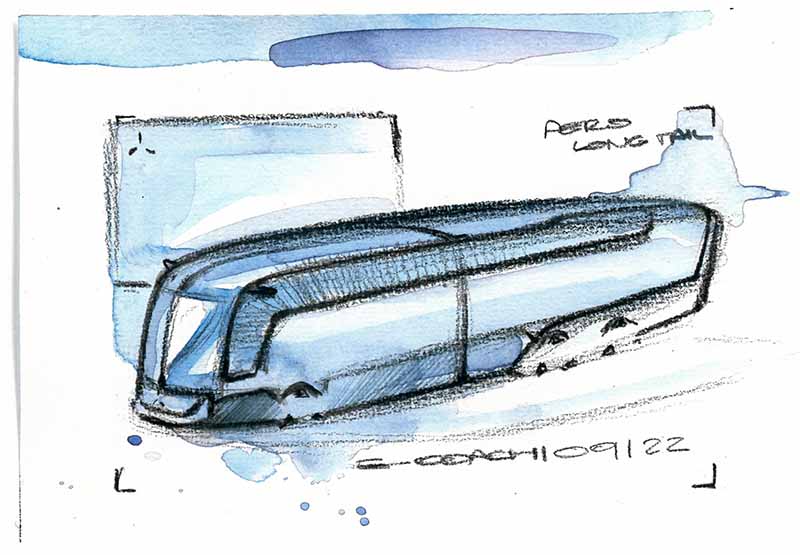 Problem definition
City buses with fully electric drive, such as the Mercedes-Benz eCitaro, are now a familiar sight on the streets of many German and European cities. Electrically powered coaches are a different story. Their development is much more difficult, as there are numerous high hurdles to overcome before they can be used in practice. Indispensable and sometimes contradictory are the requirements for long range in long-distance traffic, flexibility in operation, intermediate charging for batteries, high payload and the space requirements for passengers and luggage. To date, no bus manufacturer has succeeded in developing a battery-electric coach that covers practical ranges and availability for a wide range of operating conditions.
Holistic approach: from energy consumption to production
In the ELCH project, the partners are taking a holistic approach. First, in a concept phase, a modular drive system is being investigated in a model test with a view to energy consumption, range, driving performance and battery service life. Synergies with components from Daimler Truck's truck division will be taken into account.
In a second step, factors such as overall costs, environmental impact, and possible integration into existing operating concepts of bus companies are incorporated into the results. Based on the concept evaluation, two prototype powertrains are then developed and integrated into demonstrator vehicles. This will allow testing under real operating conditions.
The findings from the construction of the demonstrator vehicles form the basis for planning cost-effective production and assembly processes for electrically powered coaches. In combination with the modular product approach, this enables a rapid production ramp-up.
Project objective
The aim of the Electrified Coach project - abbreviated to ELCH - is to develop a modular powertrain including two emission-free and practical demonstration vehicles over the next four years. They will subsequently be tested under real operating conditions.
Project partners: researchers and practitioners working hand in hand
The coordinator of the publicly funded project is Daimler Buses. Project partners are the Karlsruhe Institute of Technology KIT (ITIV - Institute for Information Processing Technology); the University of Mannheim (MISES - Mannheim Institute for Sustainable Energy Studies); the Rhineland-Palatinate Technical University Kaiserslautern-Landau RPTU (iMAD - Institute for Mechanical and Automotive Design as well as SAM - Chair of Fluid Mechanics and Fluid Machinery) and the operator Flix SE with its green Flix long-distance buses.
The close cooperation of the highly competent project partners involved - supported by the public sector - ensures a rapid and practical development on the way to the fully electrically driven coach. The project is funded by the German Federal Ministry of Economics and Climate Protection.
Contribution of KIT (ITIV - Institute for Information Processing Technology)
The "Institute for Information Processing Technology" (ITIV) of KIT contributes its distinctive expert knowledge in handling large amounts of data in the context of analyzing operating conditions and developing an intelligent operating strategy. In addition to minimizing energy requirements, factors such as optimal load distribution of the powertrain and efficient use of recuperation are to be taken into account, using artificial intelligence methods.
Product study: Daimler Truck AG