System integration and communication structures in Industrie 4.0 and IoT
Type:

Vorlesung (V)

Chair:

KIT-Fakultäten - KIT-Fakultät für Elektrotechnik und Informationstechnik

Semester:

WS 22/23

Time:

from 24.10.2023
Tuesdays 11:30 a.m. - 1:00 p.m., weekly
20.30 SR -1.025 (UG)
20.30 College Building Mathematics (UG )


Lecturer:

SWS:

2

Lv-no.:

2311614

Information:

Presence
| | |
| --- | --- |
| Presentation language | German |
System integration and communication structures in Industrie 4.0 and IoT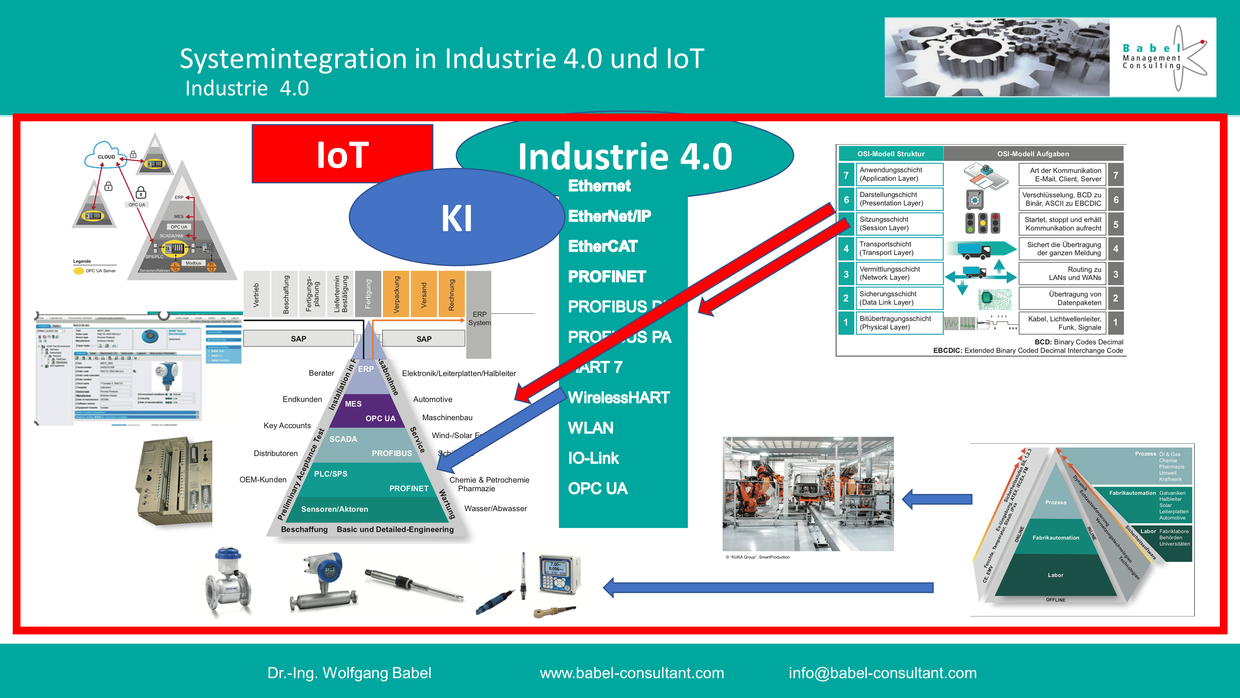 Objectives
This lecture describes the milestones of automation from the beginning of Ethernet and fieldbus system developments, as well as the emergence of the OSI model and the automation pyramid. It provides a focus on the development of field devices and automation components in the context of the influence of electronics, µ-controller- DSP, FPGA, multi-core processor and chip-on-bond developments as well as software and algorithms.
Content of the lectures
Industry 4.0
Made in China 2025
IoT (Internet of Things) and Industry 4.0
System integration of fully automated production lines
Networking topologies with respect to the automation pyramid and OSI model
Artificial Intelligence
Neural Networks
Pattern recognition
predictive maintenance
Complexity pyramid in automation
Solution business (added value selling) in automation
Digitalization
Environmental requirements for systems engineering in the factory and process industry
Fieldbuses and real-time bus systems and their integration into automated production processes
Examples for the integration of real-time capable measuring systems for quality control
In particular, interrelationships and developments of the topics are discussed. Another focus is the formation of committees in automation, their objectives and efforts towards standardization.
The 12 most important fieldbuses are discussed with regard to their history, protocols and technology such as:
Ethernet
EtherNet/IP
EtherCAT
PROFINET
PROFIBUS DP
PROFIBUS PA
HART 7
WirelessHART
WLAN
IO-Link
OPC UA and cloud computing
Other main topics
Among other things, ASICs and hardware solutions for fieldbuses are presented and discussed with regard to their performance.
An overview of the fieldbus nodes in use today will be given, as well as their trends. The cost advantages of instrumentation with fieldbuses are discussed as well as their risks compared to conventional technology.
The SCADA concept FDT/DTM for the integration of field devices (sensors and actuators) into the automation world is also discussed.
Examples will be discussed for automated solar cell production, printed circuit board testing, and automotive painting, among others.
An overview of the historical development of robots since 1970 is given.
Processor development from µ-controller, DSP to multi-core processors will be discussed in detail.
The lectures will conclude with timelines of automation over more than 50 years.
Lecturer
The lecturer Dr.-Ing. Wolfgang Babel is an electrical engineer with two doctorates, who has been familiar with international automation for 40 years and has helped to shape the experience of 5 automation technology groups.