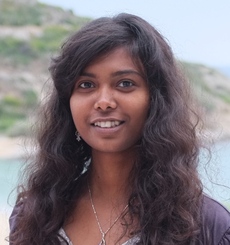 M. Tech. Shalina Figuli
Externe Doktorandin

Gruppe:

Prof. Becker

shalina ford∂ kit edu
Engesserstr. 5

76131 Karlsruhe
M. Tech. Shalina Percy Delicia Figuli
Lebenslauf
Geboren im Oktober 1989
Studium der Elektrotechnik (VLSI Design) an der Karunya Universität, Coimbatore (Indien)

Bachelor Abschluss im Mai 2011
Thema der Bachelorarbeit: Retrofitting of Relay Logic Based Stud Welding Machine using Programmable Logic Controller
Masterabschluss im Mai 2013
Thema der Masterarbeit: Bringing Accuracy to Open Virtual Platforms (OVP): A Safari from High-Level Tools to Low-Level Microarchitectures
Forschung
Architectures and tools for highly efficient system-on-chip
FPGA based highspeed communication systems

Fellow in the Helmholtz International Research School for Teratronics (HIRST)
Terahertz technology has become a highly emerging research field, surfacing the known knowledge of the advancing world and making it to step into the unexploited gap called Terahertz gap, that lies in full potential, sandwiching itself between the microwave and infrared frequency ranges. This unharnessed gap has led to the birth of a new field called Teratronics which convolves within the key aspects of electronics and photonics. The continuously growing FPGA domain with the blooming parallelization, pipelining and reconfiguration facilities is aimed to make its mark in the future scientific world by bringing terahertz frequency application into reality. However, for now, advances in the context of Teratronics are mainly on fundamental physical layer, dealing with low complexity. There is a big gap to the application domain and the system level, because today's and near future FPGAs are not meeting the Terahertz demands. The Helmholtz International Research School for Teratronics (HIRST) endeavors to close this gap by developing and exploring future FPGA technologies by identifying their bottlenecks and incorporating latest promising breakthrough physical technologies such as optical on-chip interconnects.

Fellow in the Karlsruhe School of Elementary Particle and Astroparticle Physics
The tremendous data volumes in particle detectors demand for transfer rates in the range of Tb/s. Realizing these data rates on serial data connections like fibre optics arise interesting research questions throughout the whole communication and processing chain. Not only the physical link needs to be capable of the demanded bandwidth, but also the digital signal and data processing, including higher order modulation techniques for efficient bandwidth utilization and efficient communication protocols. With respect to digital signal and data processing, today's general purpose CPUs and DSPs cannot achieve these demands. Moreover specialized highly parallel hardware is needed, thus the employment of FPGAs, that provide a large scale of programmable logic and DSP resources as well as specialized high-speed I/Os, seems very promising.