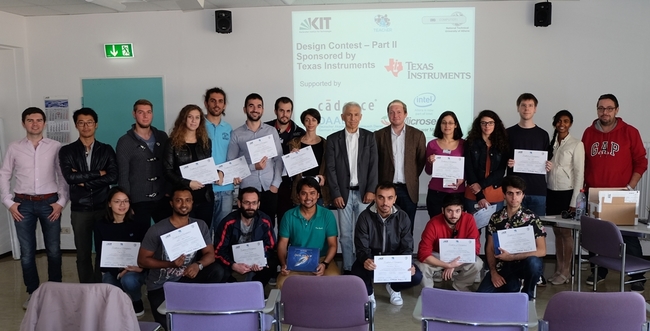 Im Rahmen des binationalen Kooperationsprojektes TEAChER (TEach AdvanCEd Reconfigurable architectures and tools) haben das ITIV am KIT und das ICCS an der NTUA (National Technical University of Athens) gemeinsam die zweite Sommerschule mit dem Titel "PANDORA: Progression and Diversity of Reconfigurable Architectures and Tools" in Karlsruhe organisiert.
Vom 19.-23. September 2016 konnten griechische und deutsche Studentinnen und Studenten in einem interaktiven Mix aus Vorträgen, Hands-on Tutorials und Laborübungen einen tiefen Einblick in Aufbau und Funktionsweise von 2D & 3D FPGAs und entsprechenden CAD Tools sowie in aktuellen Entwicklungen und Trends erhalten. Unterstützt wurde das Event von DAAD, Cadence, Texas Instruments, Intel und Microsemi.
Wir bedanken uns insbesondere auch an Prof. Peric und sein Team vom IPE für die ASIC Themen und die Führung am ASIC Design Lab.
Impressionen: