Project overview
Along with significantly increasing energy consumption and under urgent social expectation, in the name of "renewable and green energy", wind energy is facing more challenging in development and application. Nowadays larger Wind Turbines (WTs), which are set up in difficultly accessible locations like offshore, have to be put into use more often. Meanwhile, a higher Operation & Maintenance cost (O&M cost) is caused not only by irregular maintenance action but also the heavy accessibility expense. Due to wider wind speed turbulence brought by large fan size, the equipment has to endure strong torque fluctuation. It's obviously that serious require on material stress tolerance and manufacturing quality is growing even in short time now.
The project objective is to design a Doppler Laser Anemometer for WTs' successfully active control, in order to reduce unexpected maintenance frequency and decrease the electricity price of wind energy in long term.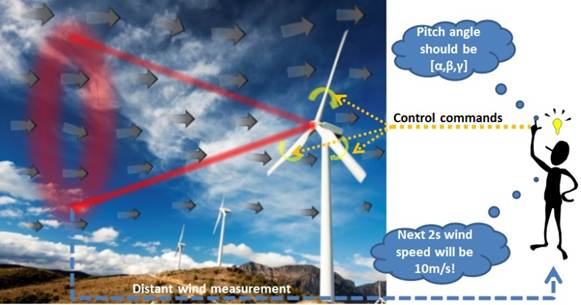 Task
The thesis goal is to design a motorized auto-coupling setup for coupling the free space laser signal to a single mode fiber. The low laser coupling efficiency and high sensitivity to vibrations limited the specification of fiber based laser Doppler wind sensor. Your applied main lab method is adding a 3-Dimensional linear stage and a detector array to make the coupling automatically. To accomplish this topic, student ought to learn and apply the LABVIEW programming, vibration control, optical system and labor design work. At the end of the thesis, a Lab setup for auto-coupling is designed. In additionally, the system with the freedom to add a 3-D wind field scanning system is expected.
Requirements
High self-motivation
Ability to work independently and good team sprit
Basic knowledge on optics
Interest in optical lab working
Good knowledge of English
Basic knowledge of LABVIEW
We offer
Good multidisciplinary and creative team atmosphere
Industry project-oriented master topic
Motivated coworkers
Well mentoring during thesis work